Bone Marrow Nei Kung - Reprogram your DNA with Master Mantak Chia (eng.)
SYSTÉM  UNIVERZÁLNE  LIEČIVÉ  TAO  SLOVAKIA 
Martina Medvecká -LIEČIVÉ TAO, ŠKOLA TAOJOGY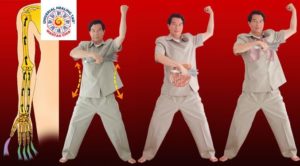 ---
Bone Marrow Nei Kung - Reprogramming DNA
Bone Marrow Nei Kung – The Tao of Bone Health
For new students, we recommend taking "Awakening the Light of Healing & Wisdom"
This level of Iron Shirt works directly on the organs, bones and tendons in order to strengthen the entire system beyond its ordinary capacity. An extremely efficient method of vibrating the internal organs allows the practitioner to shake toxic deposits out of the inner structure of each organ by enhancing Chi circulation. Learn how to strengthen your bones by increasing bone density and structure.  Re-grow the marrow through bone breathing and internal reproductive organ massage. Through the process of absorbing energy into the bones, bone marrow can be revitalized to replenish the blood and nourish the life force within. In ancient times, the "Steel Body", attained through this practice was a coveted asset in the fields of Chinese medicine and martial arts.
Reprogramming Your DNA
Reprogram yourself to your "Original Blueprint". Boost your immune system with meditation and energy directing exercises. Intentional breathing and targeted gentle hitting practices activate the training camp of your immune system and strengthen the blood in your bone marrow. Release free radicals with Healing Sounds.
Mantak Chia is the founder of Universal Healing Tao, a much-loved system of personal cultivation and spiritual development, practiced all over the world for the last 40+ years. Through the practices of the Universal Healing Tao, you can learn to reduce stress and create harmony and balance in all aspects of your life — physical, emotional and spiritual.
Participation in Master Mantak Chia's online courses offers phases of theoretical explanations, backed up by the latest results of scientific research and with very catchy image presentations. These are followed by detailed exercises and meditations guided by Master Chia, so that the theoretical explanations are immediately tangible. Should questions still arise, each participant can enter them in writing in Zoom. These questions will be answered immediately by Universal Healing Tao Instructors and seniors present. Thus, the participation in an online seminar becomes a special experience, at home and undisturbed, with a constructive learning and experience growth.
This is the perfect time to dedicate yourself to improving your life right now! The Tao is simple, yet profound and complete. Enjoy and use this time at home to receive these profoundly transformative teachings from Mantak Chia, a true Taoist Master!
What You will Get
E-booklet made by Master Chia. With highlighted slides from his teaching. So you may concentrate on listening and practice more.
Recorded version of this seminar. If you can't be online full course you have 1 week to watch full seminar again.
LIVE meditation together with the Master and hundreds meditators. During the seminar we will often practice together.
LIVE Question session with Master. You may ask questions live before the end of each session.
Accredited hours towards Instructor certification
Requisites:
wire/bamboo/bean hitter (you can make bamboo hitter yourself by putting beans into a sock and trying it )
weight with a hole (for lifting/ not mandatory)
bottle of water
synthetic silk cloth (6in and 20in)